Aquasana Water Systems - Take a major step toward "green" living!

Suggested Reading:
What is MTBE?

At the touch of a button, Aquasana transforms tap water into naturally healthy, chemical free water! Aquasana is the #1 rated home drinking water filter and shower filter in America and the Aquasana AQ-4000 was voted "Best Buy" by Consumers Digest Magazine! The best water you've ever tasted or your money back!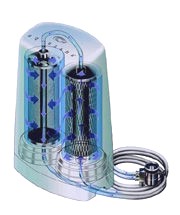 AQ-4000 Dual-Filter Drinking Water System complete with filter cartridges, chrome faucet diverter and easy to follow instructions. (Counter-top model). The Aquasana AQ-4000 System can also be installed as an Undersink System with Deluxe Chrome Pure Water Faucet, see Item #AQ-40 (Installation Kit) in product catalog.

Aquasana is the #1 rated home water filtration system in America, works better & costs less than any other brand. This patented dual cartridge drinking water filtration unit installs in seconds to standard kitchen faucets and provides up to 30 gallons an hour of ultra-filtered, high quality water.

Includes filter housing, chrome faucet diverter, twin filter cartridge set(lasts 6 months/filters 500 gallons), easy to follow instructions and our 50 pg."All About Water" booklet.

Replacement filters cost $45.00 every 6 months/500 gallons... that's only 9 cents a gallon/ $7.50 a month for all the pure healthy water you need for drinking, cooking or preparing foods and beverages with.

You get the very best water, the best value and the ultimate convenience, at a fraction of the cost of bottled water!

Sun Water Systems manufactures water filtration products for over 50 different U.S. companies, all who sell our products at considerably higher prices. This is our very best product and our very best price, FACTORY DIRECT! Aquasana's exclusive dual filter system uses a combination of carbon filtration,ion exchange and sub-micron filtration to produce truly healthy, great tasting water at the convenience of your kitchen tap. Filters out chlorine, lead, synthetic chemicals, VOCs, THMs, MTBE, Turbidity, Cysts and water borne parasites.

No other product, at any price, has ever produced better results than Aquasana! Aquasana's contaminant reduction capabilities are certified by the California Dept. Of Health, the most stringent regulations in the U.S.

~ Made in the U.S.A.
~ Filters water borne parasites
~ Filters VOCs, THMs and MTBE
~ 30 Day 100% Money Back Guarantee!
~ Lifetime Warranty with Water 4 Life Auto-ship Program!
~ Professional customer service
~ Superior shower filters available as well!

Note: VOCs are volatile organic compounds. The type that is harmful comes from the vapors of chemicals. Volatile, in this sense, basically means they can evaporate into the air you breathe. No one really wants VOCs in their water or their air. THMs are considered carcinogenic and come from solvents and refrigerants. No one wants THMs in their water either!.